Welcome to Your New Office!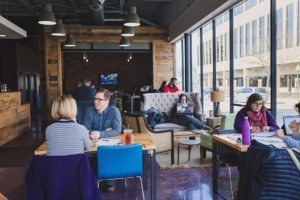 The Office Coffee Shop provides a business hub where professionals in all industries can come to grab some coffee, hold a meeting, meet for lunch or put in a full day of work. Our experienced baristas, professional support staff and convenient location in downtown Royal Oak lends an energetic atmosphere to your day-to-day business needs. And not only can you work, print, scan and meet in a comfortable environment — we also offer IT, business development and marketing assistance.
But while our primary goal is to create a place for small business to thrive and collaborate, The Office Coffee Shop is also dedicated to a "pay it forward" philosophy. A portion of all our proceeds will be donated to charities that strive to improve others' lives everyday.
The Office Coffee Shop Backstory
When my now wife, Brooke, and I were in school at Western Michigan University, we spent a lot of time in coffee shops — studying, hanging out, meeting new friends. There was one coffee shop on the second floor of Video Hits Plus that good food, a great atmosphere to study, a big screen for watching movies and even some games to help us de-stress before a big midterm. It became a networking hub for a number of us, as we spent time planning the night's events, which often included grabbing a beer at Bilbo's.
Coffee shops like these were the perfect place to be productive, hang out, or just get some personal time away from the distractions of school. They made studying feel more like hanging out. We are building a professional atmosphere at The Office Coffee Shop that makes working feel like hanging out and Royal Oak is the perfect city to network, run a small business, study, experience nightlife and embrace a supportive community.
As you may remember, working remotely was not easy in the early 2000s, because Internet speeds were very slow compared to today's standards. Working at a small engineering firm and on a number of construction projects in the Metro Detroit area, I enjoyed wrapping up my day drinking a cup of coffee and getting some paperwork completed. It wasn't until around 2009 that working remotely became easier and I found myself preferring to work in a coffee shop. My office never had very many people in it because people were out on jobsites, and it was lonely and uninspiring working in an empty space. Not to mention there was a considerable amount of commercial real estate being under-utilized in an industrial park with no atmosphere.
I thought there had to be a better way for small businesses to create a vibrant atmosphere while providing all of the modern office amenities — and without the 5-year lease for commercial real estate. I started to travel even more in 2011 — in Ohio, Maryland and throughout Michigan — and working in coffee shops became a daily occurrence. At this point I worked from home and wanted to break up my day, as well as revive the camaraderie of a shared space. I got more things done at my "third" space than any other location, but ran into a variety of problems such as printing, using a second monitor and conference calls.
It was then that the idea for The Office Coffee Shop was born.
During a trip with Brooke to a friend's wedding, we were discussing life and what we wanted to do going forward. Brooke wanted help others in need, but the question was how. We knew it was challenging for people to find time to volunteer or money to donate — we knew we needed a way to make charitable giving a part of our everyday life. That's when we realized that my idea for a shared workspace and Brooke's passion to make a difference could be combined into one small business.
In 2014, we decided to take the jump and open The Office Coffee Shop and build our dream. As blueprints and business plans became reality, we both knew one of our key principals would be sustainable philanthropy. So we decided to team up with charities we love and pay our own success forward to those who need a little help.
Now that you know our story, I hope you'll become part of our family. Enjoy your time at The Office — sip your coffee as you work, look at the bigger picture of paying it forward and have a good time meeting new people.
            — Mike & Brooke Keith